Trading
Acronyms | Beginners Tutorial | Crafting Tutorial | Dungeon Tutorial | Familiar Tempering Tutorial | Flying Tutorial | Fishing Tutorial | Gathering Tutorial | Hakanas Voucher Guide | Taming Tutorial | Tempering Tutorial | Weapon Awakening Tutorial
!!! WARNING: You are responsible for ALL Trades !!!


Bought something from the Auction ?, need to swap items with your friends or between characters ? or just plain pawning off your junk to a newbie who might appreciate it! Then you will need to trade!


The Trade System allows players to trade various items between one another.
The Trade System allows players to trade:
| | | |
| --- | --- | --- |
| • Weapons | • Armor | • Seal Stones |
| | | |
| --- | --- | --- |
| • Currency (Gold, Silver and Copper) | • Sealed familiars | • Potions |
| | | |
| --- | --- | --- |
| • Materials | • Recipes | • Ellun (Note: Only Ellun purchased from NX plus or marked as Tradable) |
The trade system doesn't allow the trade of:
| | | |
| --- | --- | --- |
| • Quest Items (eg: ice crystals) | • Items that are already bound to your character | • Certain heroic dungeon equipement eg. Frost Command Set |
To begin a trade with another player, right click on the player and select the Trade Request option from the menu.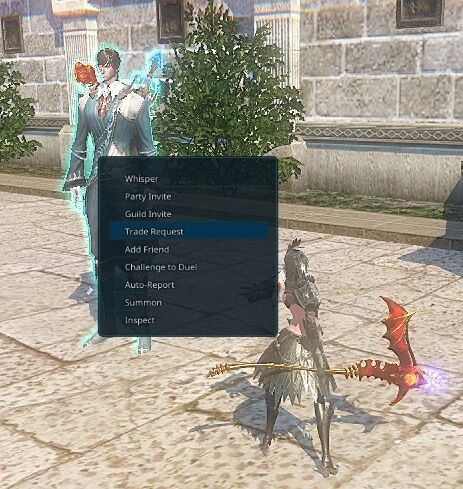 Select "Trade Request" from the menu.


This will then bring up the trading window. Here you can right click on items from your inventory that you wish to trade to the other player. If you have a stack of items and only wish to trade part of the stack, hold the Shift key and right click the stack, this will allow you to select how much of the stack you wish to trade.
Please Note: Multiple trades may be required as you can only trade 6 items at a time.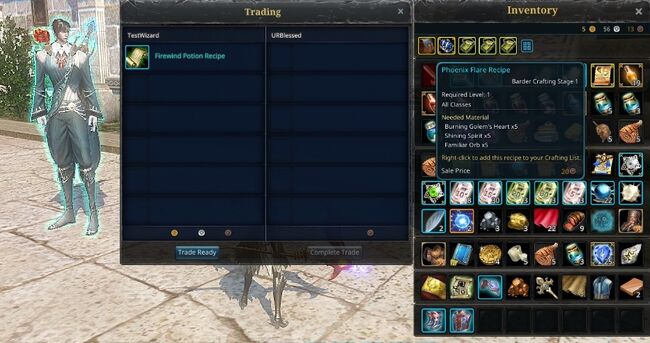 Trading Window
You can also trade gold, silver and bronze by right click on the space on the left side of the coins within the trade window.
Be careful and double check the amounts.
Once you have selected the items or gold that you want to trade, click Trade Ready. The player that you are trading to will also have to Trade Ready.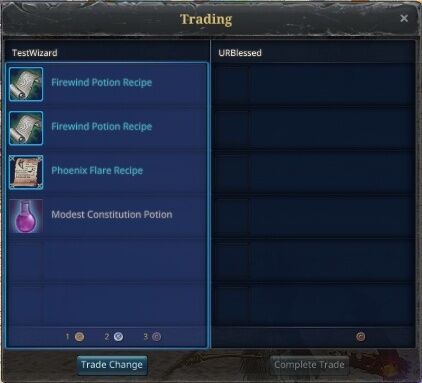 Click Trade Ready
If you are both happy with the trade, click on Complete Trade. This is your last chance to check as once you click Complete Trade, the trade will be final.
If you are NOT happy with the trade, exit the Trading window by clicking X in the top right corner.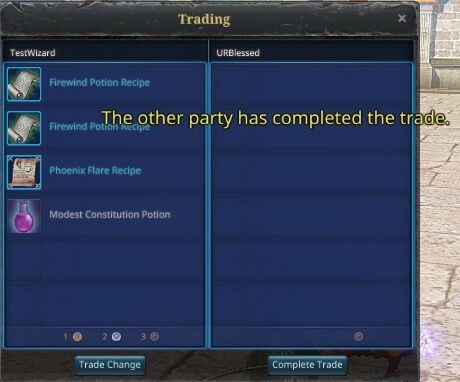 Click Complete Trade
Important Game Information | Social Media | Game Events | Quests | Cash Shop | Character | World | Guide Portal | Gameplay