We're Getting Mutants in the MCU - The Loop
Play Sound
Lavalight Cave
Region
Hakanas Highlands (North)
Minimum Level
13
Tamable Familiars (Heroic Only)
Magma Hound
Final Boss
Lavalight Golem
Description
[
]
Lavalight Cave, LLC, is the first dungeon players will encounter and is located in the south-west region of the Hakanas Highlands. The recommended starting level is 13-15. The dungeon-specific gear dropped in Lavalight Cave is called the Emberstone set. Outside the tunnel leading to the entranceway, an NPC named Private Corance offers repeatable quests.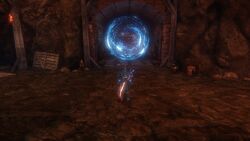 Enemies
[
]
[E] = Elite Ranking [H] = Heroic Ranking
The boss and miniboss will scale with the level of difficulty you choose, i.e.: Choosing heroic sets them to be "Heroic" enemies while choosing elite sets them to be "Elite" enemies.
Mobs
[E] Burning Skeleton Archer
[E] Burning Skeleton Soldier
[E] Burning Skeleton Knight
Emberstone Rockling
[E] Emberstone Sentinel
Resting Skelton
Dragon Egg
[E] Magma Hound
[E] [H] Scorched Skeleton Captain
[E] [H] Emberstone Golem
Level
13
14
15
13
15
13
14
15
16
15-17
Story Count
5
8
5
10
5
9
8-9
0
1
1
Elite Count
8
10
4
17
11
10
8-9
1
1
1
Heroic Count
8
11
4
19
9
15
8-9
1-2
1
1
Locations
[
]
The magenta arrow located along the path (middle of the map) is a quest NPC
Zones
COLOR / MOBCOUNT
COLOR / MOBCOUNT
COLOR / MOBCOUNT
COLOR / MOBCOUNT
Story
Elite
Drop Tables
[
]
Category: Dungeons