Familiar Synthesis is a system that allows you to obtain a higher-grade familiar by combining lower-grade familiars.
Synthesizing familiars

[

]
Familiar Synthesis requires a minimum of two familiars to be used as materials in the process. A familiar must reach its maximum level and not wear any equipment in order to be eligible for use. Additionally, there are some familiars that simply cannot be synthesized at the moment, such as any Legendary+ grade familiar, Tagris, Traes, Cragoyle and Winstein.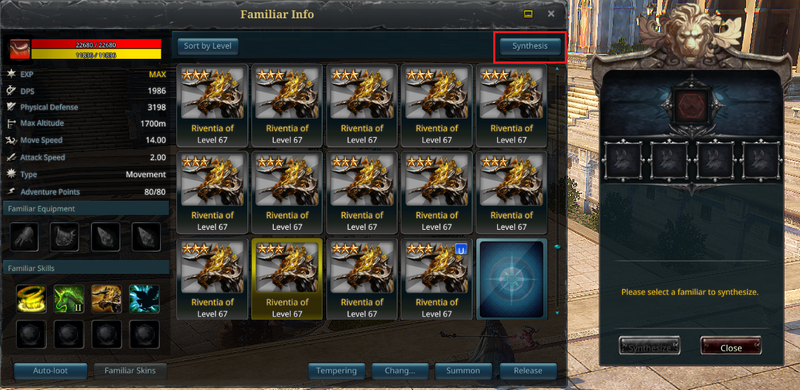 How to synthesize a familiar:
Press the Synthesis button in the Familiar Info window to open the Familiar Synthesis window.
Right-click on the familiars that you wish to use as materials or drag and drop them into the empty slots and press the Synthesize button.
After adding your desired familiars into the Synthesis window, the system will display the possible grades of the familiar that will result from that fusion and how much gold it costs.
When the synthesis is completed, all the familiars used as materials disappear and the newly obtained one will be added to your familiar inventory, while also being automatically registered in your Familiar Bestiary.
At the moment, the synthesis results are determined by the following aspects:
the grade of the familiars
the number of familiars used
the maximum level of the familiars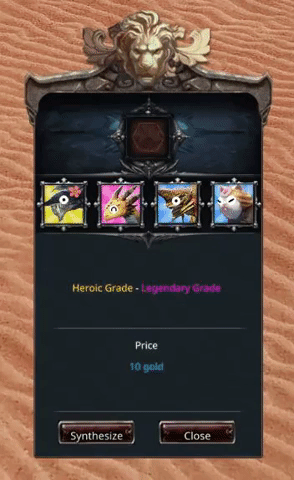 Below is a list of all the familiars that can be obtained through synthesis: