Maps | Dungeons | Familiar Farm | NPC's | Parties | PvP | Guilds | Raids | Bestiary | World Bosses
The Familiar Farm system allows each Rider to enter their own instanced farming area. Speak with the Beast Trainers throughout the region like NPC Weid located in Artisan Square of Hakain's Crossing or NPC Garnas at Parna's Coast to visit your farm. At present the Familiar Farm is an exclusive to your Rider only. No other Riders will be able to enter or access your Familiar Farm. In addition to finding various services such as Workshop Merchants, Workshop Stations, Storage NPC and the Auction NPC, the Familiar Farm also serves as a hub for the following new features:
Familiar Farm Upgrades
[
]
Your Familiar Farm can be upgraded both visually and functionally.To do this speak with NPC Daisy to upgrade your farm in numerous ways by using Familiar Coins. Familiar Coins can be attained through daily quests and Familiar Adventures. At present these upgrades to your farm only lasts for 7 days.


NPC Daisy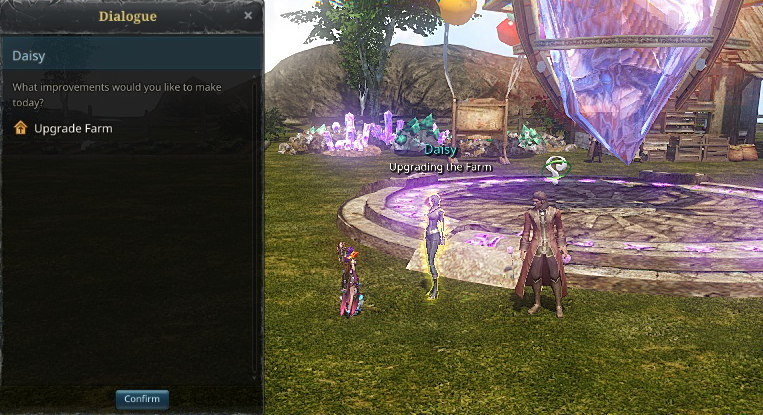 Stable Upgrades
[
]
Upgrade I
Familiar Fostering EXP increased by 50% while logged in.
Familiar Coin cost:60
Duration: 7 days

Upgrade II
Familiar Fostering EXP increased by 100% while logged in.
Familiar Coin cost: 110
Duration: 7 days
Crafting Station Upgrades
[
]
Upgrade I
Crafting triumphant success chance increased by 7%
Familiar Coin cost:40
Duration: 7 days

Upgrade II
Crafting triumphant success chance increased by 12%
Familiar Coin cost: 90
Duration: 7 days
Familiar Corral Upgrade
[
]
Upgrade I
2 additional familiar formula buffs are added
Familiar Coin cost: 60
Duration: 7 days
Important Game Information | Social Media | Game Events | Quests | Cash Shop | Character | World | Guide Portal | Gameplay